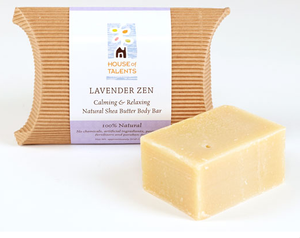 Enjoy these relaxing fragrances and turn any bathroom into a spa. Travel from home with the gorgeous aromas of Ghana. Slip away into the balmy Ghana forests. Dip your toes into the water at Lake Bosumtwi. Relax to the sound of the largest waterfall in West Africa. All from the comfort of your home. 
Lemon Lift is the perfect gift for a positive and energizing morning. Send it to a friend or family member to turn their day around. 
Lavender Zen is the ultimate relaxer, perfect for recharging before or after a big trip. 
Each bar is hand-made in Ghana from natural ingredients: shea butter, palm kernel oil, soybean oil, aloe vera, lemon essential oil, orange essential oil, thyme, rosemary and water.
All soaps are chemical, artificial ingredient, pesticide, fertilizer and paraben-free. Intended for external use as a body bar, but can also be used for hair and face.'