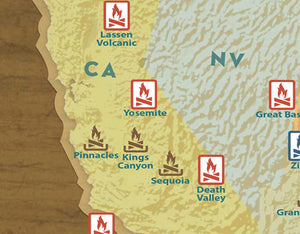 ENJOY VISITING OUR NATIONAL PARKS, AND TRACKING YOUR TRAVELS ON THIS UNIQUE MAP!
This map set includes pins to mark every park you have visited. A unique gift for any outdoor enthusiast!
Free personalization included!
A GREAT WAY TO RECOUNT YOUR TRIPS AND THE NATIONAL PARKS YOU HAVE VISITED.
This is the ultimate in talking about our National Parks, this map plots out all 59 National Parks on a USA map. The map includes original art for each of the National Parks to inspire you. Julie May, a Minnesota artist, has created a unique design for each park - and these images are also available as individual framed prints. 
The map set includes this beautiful map and a set pins to mark every park you visit. There are also Blue campfire stickers to use for your most memorable trips or favorite parks. A unique gift for any outdoor enthusiast!
Framed Map is beautifully framed in wood, this map is worthy of any home, den or office.
Framed Map size: 21" x 31"
Poster is fully laminated, and includes campfire stickers to mark the parks you've made it to so far!
Poster Size: 26" x 19"