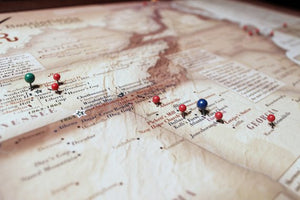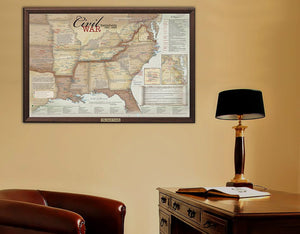 Here is the perfect gift for the Civil War buff in your family! This travel map includes historical information about the Civil War, and plots out all 388 battlefields which are still around to visit today. Beautiful and historically accurate, this map is must have for any Civil War enthusiast.

Unique Civil War Collectible
Sadly, many battlefield sites have been lost to commercial development, but this beautiful map identifies the Civil War Battlefields that are protected (at least most of them are!) and available to visit today. Historians helped us create this wonderful piece of art and history, which includes information on major battles, casualty rates, win/lost records by battle and general facts about this unique time in American history.
Pins Included!
Use the custom pin set to mark the battlefields you have visited, what's next on your list, and the favorite place you have visited so far.
Perfect Addition to Your Home or Office
Framed in a dark, rustic wood this is a beautiful framed print to hang in any home, den or office.
Great Gift

The Civil War Battlefield Travel Map is a great gift for any Civil War buff. Our customers love the combination of historical information and beautiful map, but they also enjoy the ability to track their travels to the battlefield sites. This map is as unique as the war it documents and is sure to be a treasured item in any Civil War collection.
Framed Map size: 21" x 33"
20 Years in the Making
We are so proud to be celebrating our 20th Year in 2020 here at Map Your Travels! And we couldn't have done it without your support. You have shared our products with your loved ones as Wedding gifts, Anniversaries, Graduations, Holiday gifts, and so many other special moments. Thank you for sharing our products in some of the most important moments of your lives! We wouldn't be here with you.