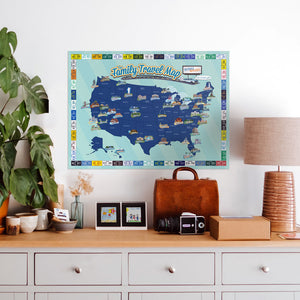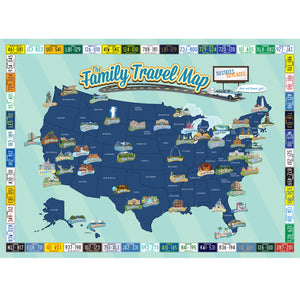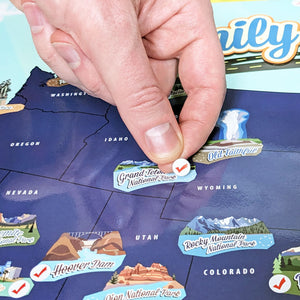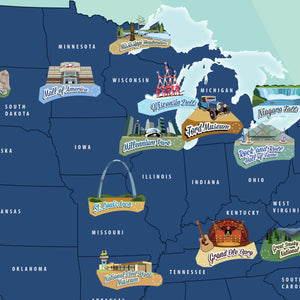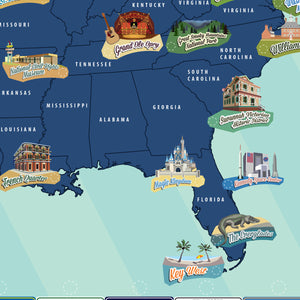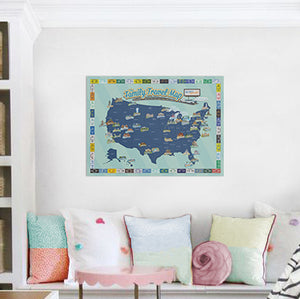 "Are we there yet?"

That's the quest! See how many states and top 50 family destinations you can make it to.
From our house to yours, welcome to the Family Travel Quest! Use the vintage license plates to mark how many states you've been to and the fun destination icons to track how many family friendly destinations you've visited on your quest to see them all. 
We include checkmark stickers so you can cross states and places off your list. Been to the Kennedy Space Center? Check! How about the St. Louis Arch? Golden Gate Bridge? Check and check. These are vacation goals the family can achieve together.
Great gift for any family that likes to travel, and loves a good challenge!
Why our posters?
These maps are fully laminated for durability and include stickers to check off your bucket list as you go. We are proud to be a part of thousands of bucket-list journeys just like yours! Each map is proudly Made in Minnesota.
Size: 26" x 19"
Check 'em off your list

We include checkmark stickers so you can cross things off your list. Been to the Grand Canyon? Yep, use a checkmark sticker to mark the icon and check it off your list.
Been to Kansas? Down to Florida? Over to California? Place the checkmark stickers next to those cool vintage license plates and see how many you can get!
Capture those memories

This laminated map lets you keep track of all those places you've been to. A Minneapolis artist designed each icon just for you to track your vacation destinations. Each one incorporates a spot for your checkmark as you cross them off your list. Ah, the memories!
Plan your next trip
Once you check the places you've been, use the map to see what you can cross off on your next trip. You may have to put it to a family vote, that's what happens at our house! Hang it on your wall and let your imagination run wild. Good luck, and happy trails.
Why Buy From Us?

We are a small family-owned company based in MN comprised of travel lovers. Passionate about sharing travel adventures and memories, our maps are designed for fellow travelers who feel the same! We've been in business for over 20 years because our quality craftsmanship and outstanding customer service are second to none. We love being a part of your special travel moments and family memories.