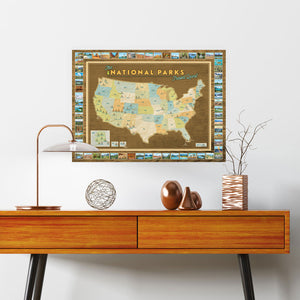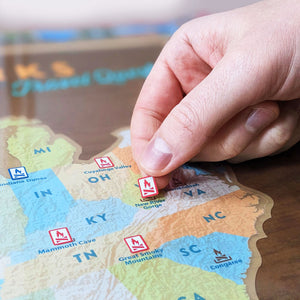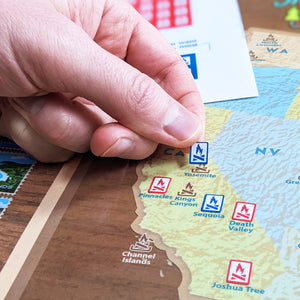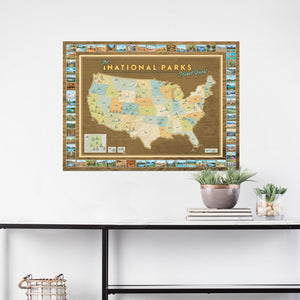 How many parks have you been to?
So many people are on a quest to visit all of our National Parks! As families, friends, couples and individuals flock to the parks, these great maps track their progress to visit them all!
Beautiful map locates all 63 National Parks for you. Check off your list using our custom campfire stickers. As you travel, "light" each campfire with a Red campfire sticker to mark that you have been there, or use a Blue campfire sticker if that park or trip was especially memorable.  
Why our map?
This poster is fully laminated for durability and includes campfire stickers to mark the parks you've made it to so far. We are proud to be a part of thousands of bucket-list journeys just like yours!
Each map is proudly Made in Minnesota.
Size: 26" x 19"
Great gift

People love to travel to the National Parks, so giving them a way to track their travels is a great gift! Our map border includes a signature image for each park created by a local artist here in Minnesota. Our design includes beautiful graphics that capture the spirit of the National Parks and the allure they hold.
We also sell these signature images as stone coasters and park prints. You can pair them with a map for an even better gift!

A Framed version, Scratch Map, individual park prints and coasters are also available.
Why Buy From Us?

We are a small family-owned company based in MN comprised of travel lovers. Passionate about sharing travel adventures and memories, our maps are designed for fellow travelers who feel the same! We've been in business for over 20 years because our quality craftsmanship and outstanding customer service are second to none. We love being a part of your special travel moments and family memories.