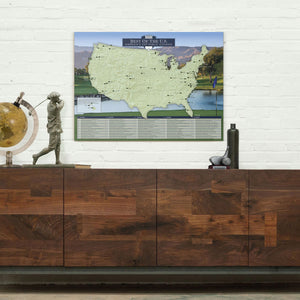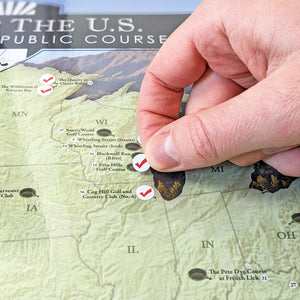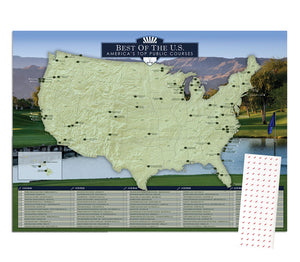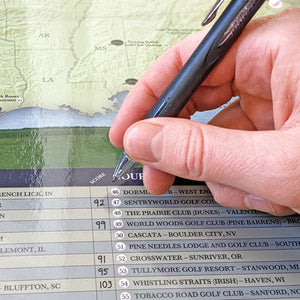 Best of the U.S.—Where have you played?
Welcome to the quest to play America's top 75 public courses! This beautiful map of the United States marks the locations of 75 of the top public golf courses in the country. Each one an amazing challenge, and a memorable trip. The Best of the U.S. Golf Courses poster is a great gift for any golf fan. This map is fully laminated and includes stickers so you can check off the courses you've made it to so far!
How do you mark the courses you've played?
After you visit a golf course, place a checkmark sticker on the golf course's location on the map. Complete the scorecard at the bottom by writing in your score!
Great gift

A unique gift for any golfer! This map lets the recipient recount that memorable shot or finally mark that course they have always wanted to play. This is the ultimate in talking about golf and a wonderful way to keep track of when the courses were played. Display all those great golf memories on this beautiful map.
Why our posters?
These maps are fully laminated for durability and include stickers to check off your bucket list as you go! We are proud to be a part of thousands of bucket-list journeys just like yours!
Each map is proudly Made in Minnesota!

Size: 26" x 19"
20 Years in the Making
We are a small family-owned company based in MN comprised of travel lovers. Passionate about sharing travel adventures and memories, our maps are designed for fellow travelers who feel the same! We've been in business for over 20 years because our quality craftsmanship and outstanding customer service are second to none. We love being a part of your special travel moments and family memories.