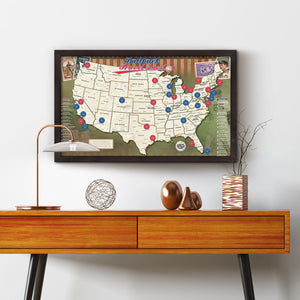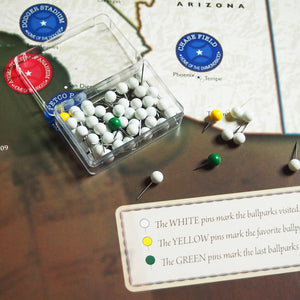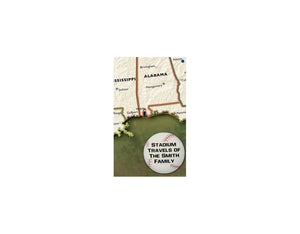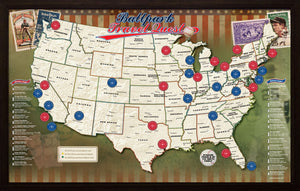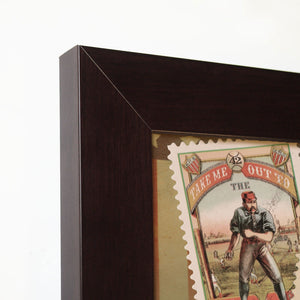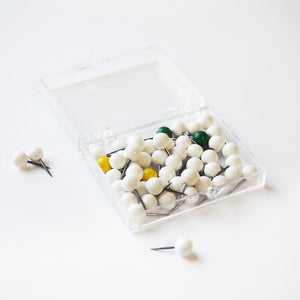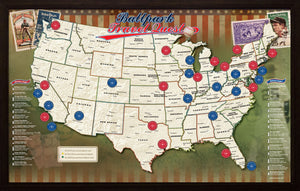 Track your stadium quest!
Are you one of those people who has challenged yourself to visit all the ballparks? You are not alone! This unique baseball map displays all of the ballparks (past and present) throughout the country on a one-of-a-kind framed baseball print. Perfect for tracking baseball road trips and favorite stadium destinations. 
What's included?
Beautifully designed, high-quality Ballpark Travel Quest Map
Push pins to map your travels
Personalized plaque
Real wood frame (33" x 21")
Hanging wire for easy installation
How is it made?
Our travel maps are printed on archival paper for longevity, not laminated or glass-covered. Each travel map is mounted on foam-core to hold the push pins in place, then backed with a hard board made of 100% recycled material for strength and stability.  
Pins Included!
White pins to mark the ballparks you've visited
Yellow pins to mark your favorite ballparks
Green pins to mark the most recent ballparks you visited
Framed map size:
Width: 33"
Height: 21"
Perfect addition to your home or office
Framed in a dark, rustic wood this is a beautiful framed print to hang in any home, den, or office. 
Great gift
The Ballpark Quest Travel Map is a great gift for any baseball fan. Our customers love not only the combination of a beautiful baseball print and ballpark map but also the ability to track all their ballpark adventures.
20 years in the making
We are so proud to be celebrating our 20th Year in 2020 here at Map Your Travels! We couldn't have done it without your support! You have given maps to loved ones as Wedding gifts, Anniversaries, Graduations, Holiday gifts, and so many other special moments. Thank you for sharing our products in some of the most important moments of your lives! We wouldn't be here with you.