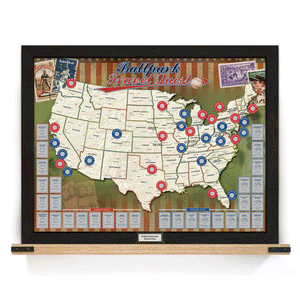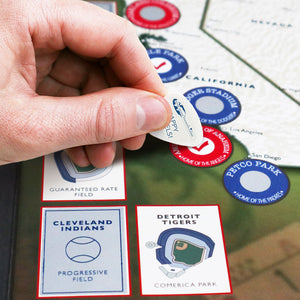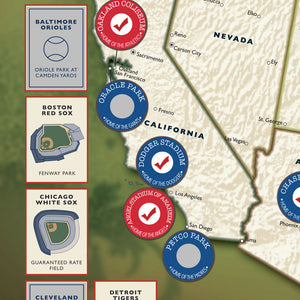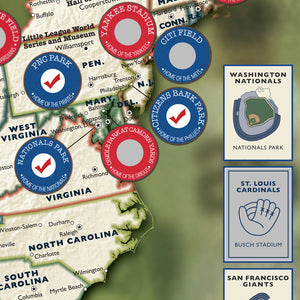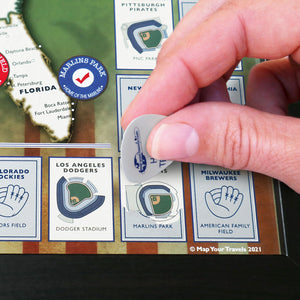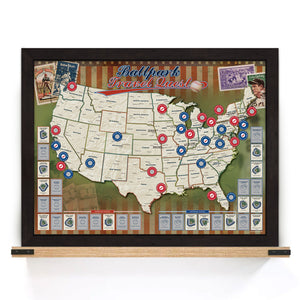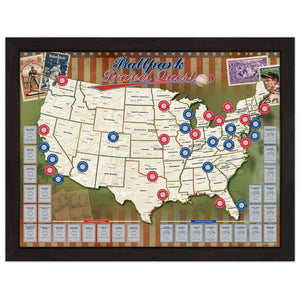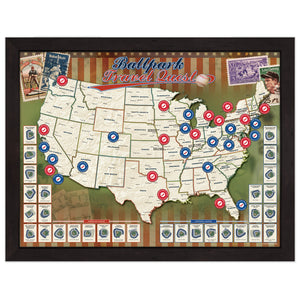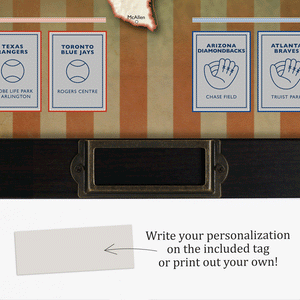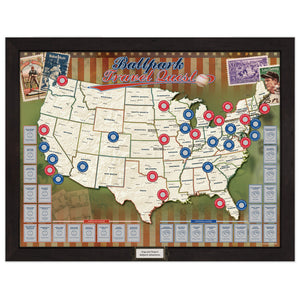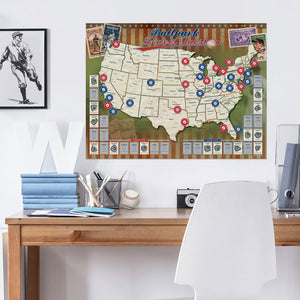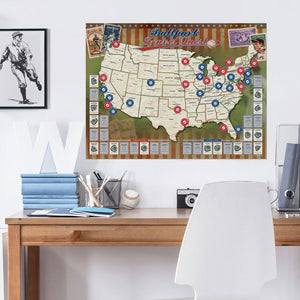 On a quest to visit all the stadiums? Scratch off the ballparks you've visited with this fun to use, interactive map! Perfect for tracking baseball road trips and favorite stadium destinations.
How to Use
Use the included scratch-off tool to reveal the checkmark in the stadium's medallion on the map and the stadium illustration around the border! 
How's it made?

Our map and its packaging are made entirely in Minnesota with close attention paid to sustainability. Each map is printed in full color on a semi-gloss paper stock. The scratch-off material is then carefully applied to two locations per stadium, the illustration and the checkmark.
Each map ships with a custom made scratch-off tool and instructions on how to use the map.
Product Size
Framed 20" x 26" 
Unframed (Poster only) 18" x 24"
What's included?
Interactive ballpark scratch map complete with stadium illustrations and checkmarks

Real wood frame
Custom made scratch-off tool
Optional bracket attached directly to the frame and blank tag to write your own personalization
Personalization Option

With this option, a metal bracket is attached directly to the frame. Use the included blank tag to write out your own personalization! 

Great Gift
The Ballpark Quest Travel Scratch Map is a great gift for any baseball fan. Our customers love not only the combination of a beautiful baseball print and ballpark map but also the ability to track all their ballpark adventures in a fun and engaging way.
Why Buy From Us? 
We are a small group of travel lovers, passionate about sharing travel adventures and memories. Our maps are designed for fellow travelers who feel the same! We've been in business for 20 years because our quality craftsmanship and outstanding customer service are second to none. We love being a part of your special travel moments and family memories.