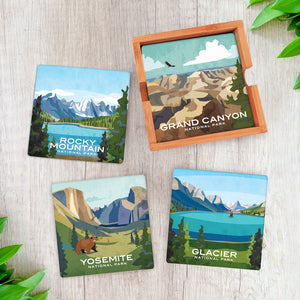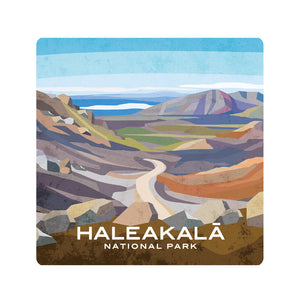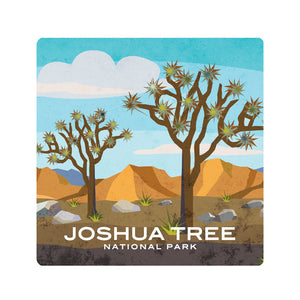 Celebrate our National Parks at home with these beautiful stone coasters. Minnesota artist, Julie May, created these signature park images to inspire you and your travels. Each set of 4 will be packaged with a natural bamboo box for storage. A great gift for any National Parks fan, these quality coasters show off your love of our National Parks and all the joy they bring.
The cork backing provides an additional layer of protection to any surface while the full-color printing adds eye-catching beauty to any room. Create your coaster set today!
Features

4 x 4 Stone coaster
Cork-backed to protect furniture
Made in the USA
Full color printing
How to Buy

You can buy a single coaster or as many as you'd like. With every 4 coasters, you will receive a bamboo display box at no extra cost. If you buy fewer than 4, we will carefully package those up for you too, not to worry.
Individual National Parks images are also available as 8" x 10" prints!
See our Framed National Parks Map, National Parks Scratch Map or National Parks Poster to track your travels to all of our beautiful National Parks.
Why Buy From Us?

We are a small family-owned company based in MN comprised of travel lovers. Passionate about sharing travel adventures and memories, our maps are designed for fellow travelers who feel the same! We've been in business for over 20 years because our quality craftsmanship and outstanding customer service are second to none. We love being a part of your special travel moments and family memories.