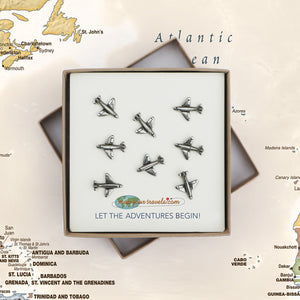 These charming airplane push pins are a great addition to any of our travel maps! Place them where you have been or add them over the oceans to show travel routes. They are also an attractive way to attach your keepsakes on the Travel Memento Boards and Premium World Travel Map Set!
Each set of 8 pins is made of pewter right here in the USA. 
Pin set includes our Map Your Travels logo and the phrase "Let the adventures begin" which is our sentiment as we ship each one of our handmade travel maps. Happy travels!