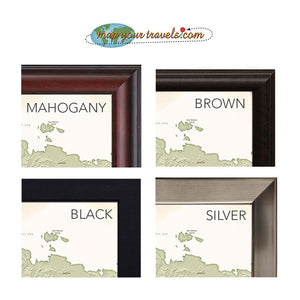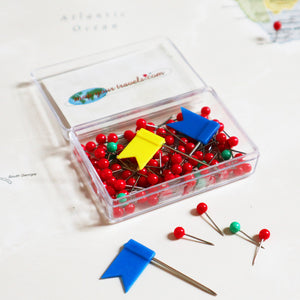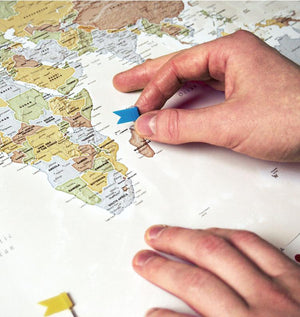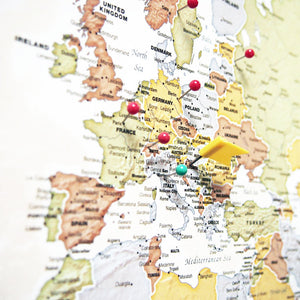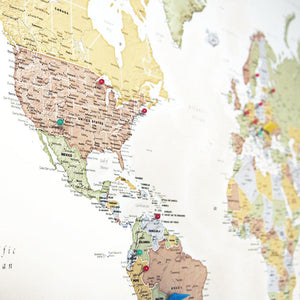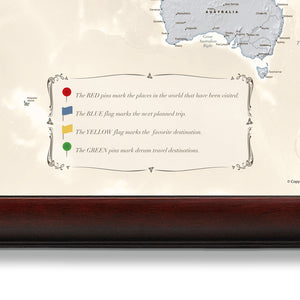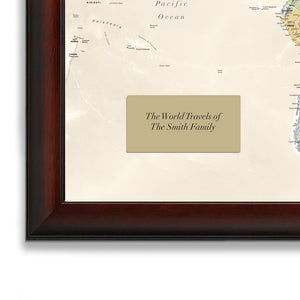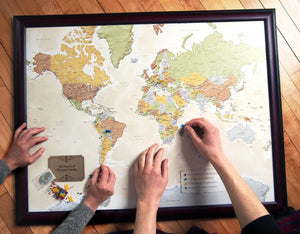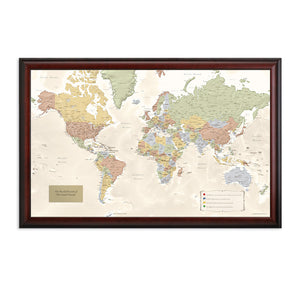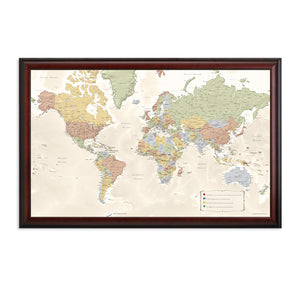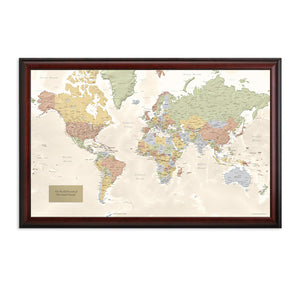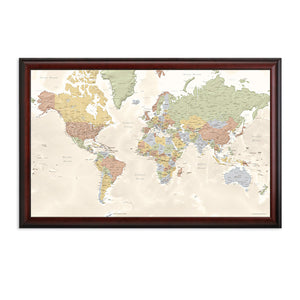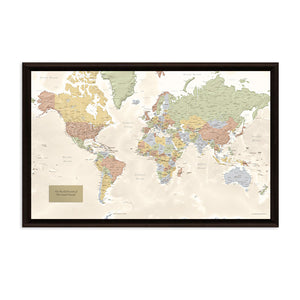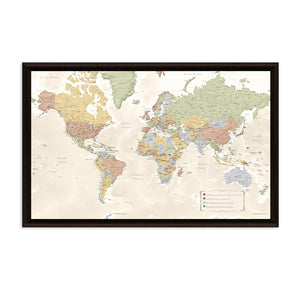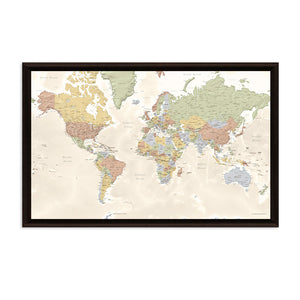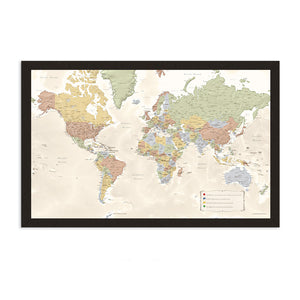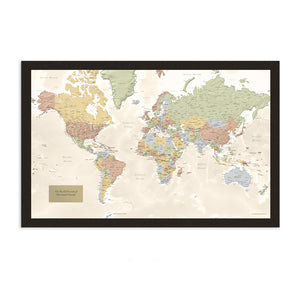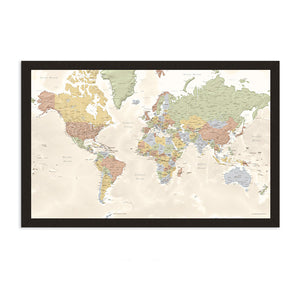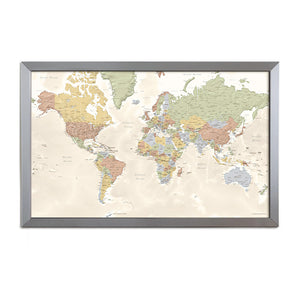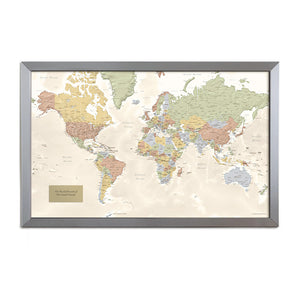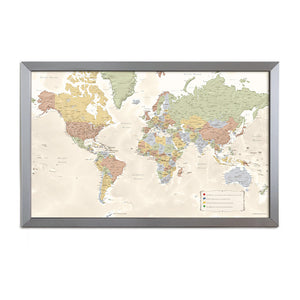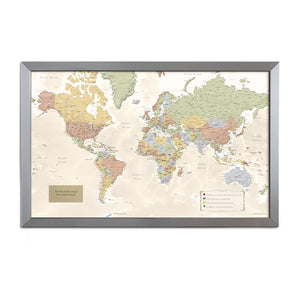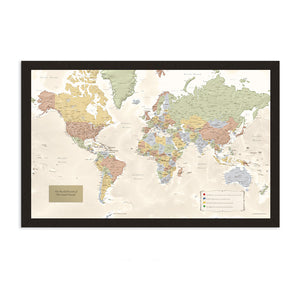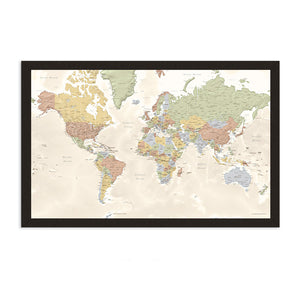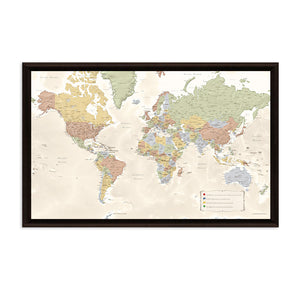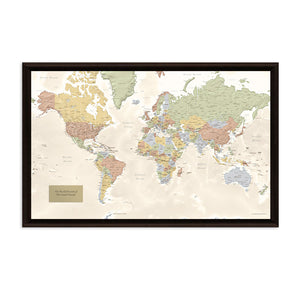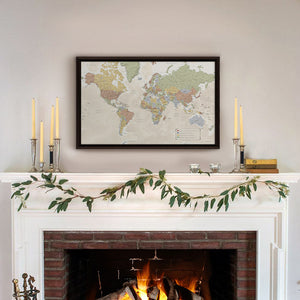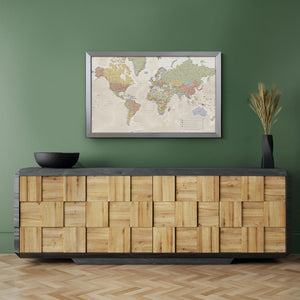 Congratulations! You have found the gold-standard in push pin travel maps. This map is a beautiful, high-quality conversation piece and so much fun to use. 
Ready to get started?
Choose Your:
Frame color
Legend type 
Personalization
We have delivered these maps for weddings, anniversaries, graduations, birthdays, and holiday gifts —
they are the perfect choice for anyone who loves or is inspired by travel
. Our maps are gifts you'll be proud to give. Please read our reviews to hear directly from our customers.
What's included?

Our classically designed World Travel Push Pin Map
100 push pins and flags to map your travels
High-quality frame available in five styles
Hanging wire for easy installation
Outstanding personalized customer service!
Made in Minnesota!
Which frame fits your style? 
Choose any frame to accent your home decor and get ready for a dynamic map to track your adventures!
Deluxe Mahogany Frame: 21" x 33"
Modern Black Frame: 21" x 33"
Richly Toned Brown Frame: 21" x 33"
Silver Frame: 21" x 33"
Our unique legend: 

Our legend makes this a great conversation piece. The Map Your Travels legend was designed to help you track your adventures just like we do!
100 Red Pins — mark where you've been

10 Green Pins — mark your dream travel destinations

2 Blue Flags — mark where you're going next

1 Yellow Flag — marks your favorite destination so far
Not interested in a legend? That's available too! Simply select no legend and use the provided pin set any way you'd like. 
Make it personal: 

With our personalization option, you can add a custom plaque to your map to tell your travel story. Want help finding the perfect message for your travel map? That's where we shine! Grab your phone and give us a call at 1-888-821-0151. We pride ourselves on helping our customers create the perfect gift! Or feel free to check out our list of personalization ideas! 
How's it made?
Travel is a lifetime adventure, so we build our maps to last. The map is printed on heavy-duty archival paper for longevity, not laminated or 
glass-covered. Each map is mounted on foam core to hold the pins in place and then backed with a hard board made of 100% recycled material for strength and stability. Framed in a high-quality frame of your choosing!
Why Buy From Us?

We are a small family-owned company based in MN comprised of travel lovers. Passionate about sharing travel adventures and memories, our maps are designed for fellow travelers who feel the same! We've been in business for over 20 years because our quality craftsmanship and outstanding customer service are second to none. We love being a part of your special travel moments and family memories.