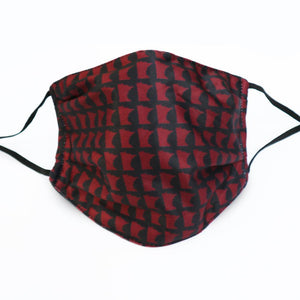 Show your MN pride! These are not made in MN, but they sure show off our Minnesota Spirit and they are, by far, our favorite face masks to wear. Adjustable, soft and safe with 3 layers of fabric. We love them!
PRODUCT: Each mask is constructed with 3 layers of fabric, adjustable straps and a metal nose clip for a tight fit (great for those of us who struggle with foggy glasses!). 

MATERIAL DETAILS: Combination of soft cotton and polyester. We recommend hand wash and line dry to extend the life of the mask and to keep its shape for the best fit. Mask size: 6 inches x 8 inches wide
Use and Care Instructions:

The mask is another layer of protection in helping slow the spread of the virus. Please continue to practice physical distancing and regularly wash your hands. 

Wash your hands with soap before applying and after removing the mask.

Be careful not to touch your face, eyes or mouth when applying/removing the mask.
Care instructions: hand wash with soap, rinse and hang dry. 

This is a personal use item and cannot be returned. 
Disclaimer: The mask should not be used (1) in any surgical setting or where significant exposure to liquid, bodily or other hazardous fluids, may be expected; (2) in a clinical setting where the infection risk level through inhalation exposure is high; or (3) in the presence of a high intensity heat source or flammable gas. For healthcare professional use, intent is to be used as an additional line of protection on top of a FDA and medical grade mask such as the N95. Minnesota Alumni Market makes no warranties, either express or implied, that the mask prevents infection or the transmission of viruses or diseases.