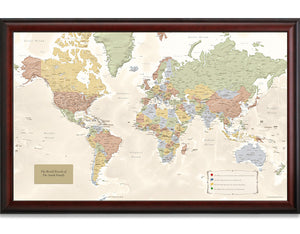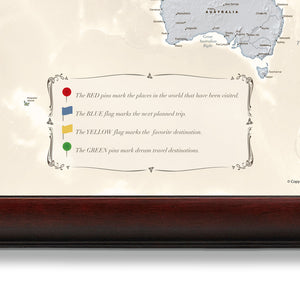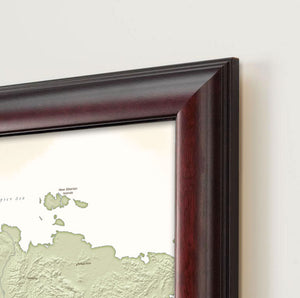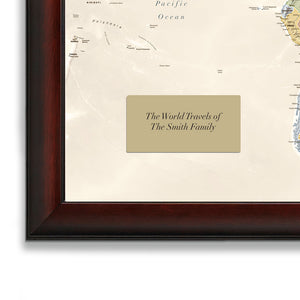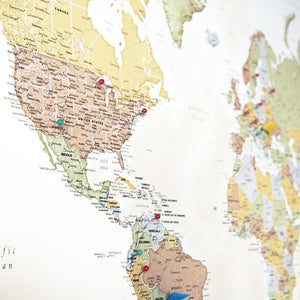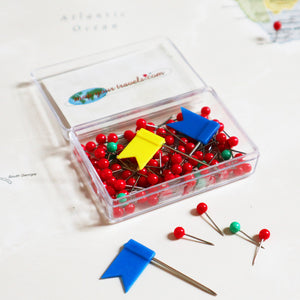 All inclusive, top of the line Original Personalized World Traveler Map. It is the gold standard push-pin travel map! It's a beautiful, high-quality conversation piece and so much fun to use. 

We love maps and have been selling our heirloom-quality maps for over 20 years to thousands of happy customers.
 We have delivered these maps for weddings, anniversaries, graduations, birthdays and holiday gifts — they are the perfect choice for anyone who loves or is inspired by travel. 
How's it made?
Since travel is a lifetime endeavor, we build our maps to last. Working with a cartography firm in our neighboring Wisconsin, we designed our World Traveler Map in classic colors to be both beautiful and functional for mapping world travels. See our Minnesota Studio in action here!
Our maps are printed on archival paper for longevity, not laminated or glass covered. Each travel map is mounted on foamcore to hold the push pins in place, then backed with a hard board made of 100% recycled material for strength and stability. The real wood mahogany stained frame matches the overall classic look of the map. Looking for something more modern? 
What's included?
Our classically designed World Map
Push pins to map your travels
Brass plaque with up to 50 characters for personalization
Signature mahogany stained wood frame
Hanging wire for easy installation
Amazing personalized customer service!
Made in Minnesota
 We created our world map with a custom legend to tell your travel story!
The Map Your Travels legend was designed to help you track your adventures with the included pin set! 
100 Red Pins — mark where you've been

10 Green Pins — mark your dream travel destinations

2 Blue Flags — mark where you're going next

1 Yellow Flag — marks your favorite destination so far
Personalization:
Each map comes with a brass plaque with up to 50 characters for personalization. Want help finding the perfect message for your map? Check out our list of personalization ideas!

Framed map size:
Why buy from us?
We are a small family-owned company based in MN comprised of travel lovers. Passionate about sharing travel adventures and memories, our maps are designed for fellow travelers who feel the same! We've been in business for over 20 years because our quality craftsmanship and outstanding customer service are second to none. We love being a part of your special travel moments and family memories.