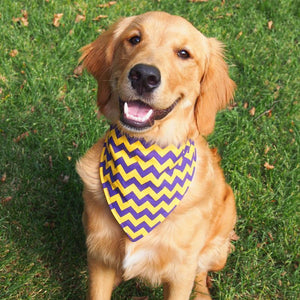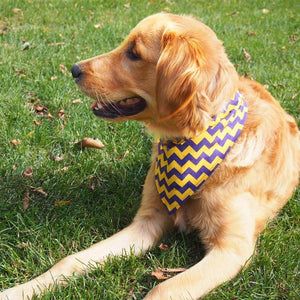 Go Team Go! Your little buddies will be ready for game day in these sports-bandanas! 
These bandanas are comfortable, soft, and stylish. Sports bandanas are equipped with two plastic snaps on each side for an adjustable fit. The flannel backing helps the bandana keep its shape and holds up much better in the wash over than other bandanas.
BANDANA SIZE: 17" wide x 7" long

EXTENDER: For larger dogs, we include a bandana extender. The extender itself is 11" long and has three snaps on each size to create a variety of size options. 
Sizing for Dogs:
The bandana itself should fit dog collar sizes ranging from 12" - 18" Two snaps are on each side for adjustable fitting (to make sure it works before and after your dog receives a hair cut!
The bandana with extender will fit collar size range from 23"-28"