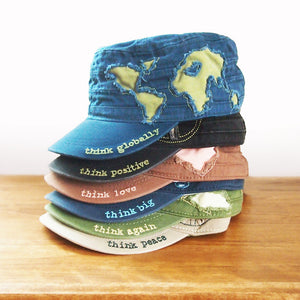 Getting lost is simply a new adventure if you have a positive attitude. Whether you travel internationally or explore your neighborhood, thinking positively brings a whole new light to your world. Stay positive and share the good times with this adorable cap!
These 100% organic cotton adjustable hats are beautiful charcoal, with a cool torn edge effect. On this inside is a surprise reminder to keep you thinking positive all day long. The quality is awesome and the message — well, people still need to hear it.
A great look. A great fit. A great message. A great gift.