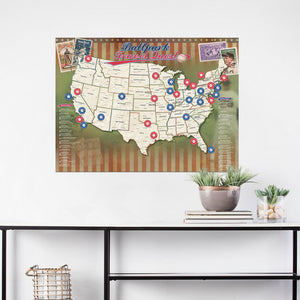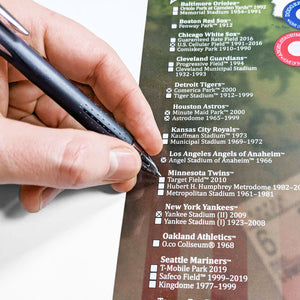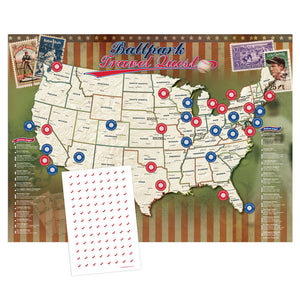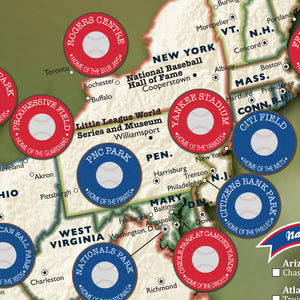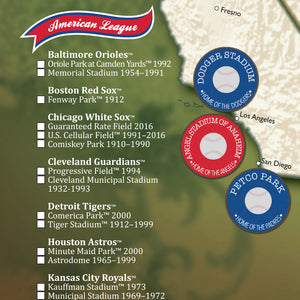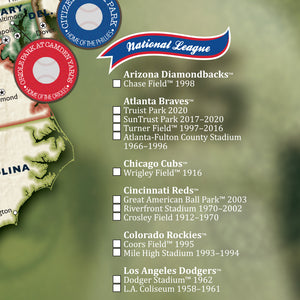 On a quest to visit all of the stadiums?
This unique baseball map poster set displays stadiums (past and present) throughout the country on a one-of-a-kind baseball map set. Perfect for tracking baseball road trips and favorite stadium destinations.
Great gift
The Ballpark Travel Quest poster set is a great gift for any baseball fan. This map is fully laminated and includes stickers so you can mark the ballparks you've made it to so far! You can also use the National League and American League checklists of all ballparks (past and present) to cross parks off your list.
If you like this map, you may also be interested in the Football Travel Quest Poster and the Premier Golf Travel Quest Poster!
The Ballpark Travel Quest Map is available Framed with push pins.
Why our posters?
These maps are fully laminated for durability and include stickers to check off your bucket list as you go! We are proud to be a part of thousands of bucket-list journeys just like yours.
Each map is proudly Made in Minnesota!
Size: 26" x 19"

20 years in the making
We are a small family-owned company based in MN comprised of travel lovers. Passionate about sharing travel adventures and memories, our maps are designed for fellow travelers who feel the same! We've been in business for over 20 years because our quality craftsmanship and outstanding customer service are second to none. We love being a part of your special travel moments and family memories.
.  
.